Web Site Development
Torello Marketing creates only custom web sites, taking the fairly traditional marketing approach of assisting our clients to Define Goals and pinpoint appropriate site content. After reviewing and understanding your other marketing methods and goals, we then plan the site layout, appearance, and function so as to become an integrated part of your overall marketing plan. During this initial development phase we work closely with you to assure that our design effort is meeting both your needs and expectations. Once these steps are completed, the site is then programmed, graphics finalized, etc.
Some examples of our work: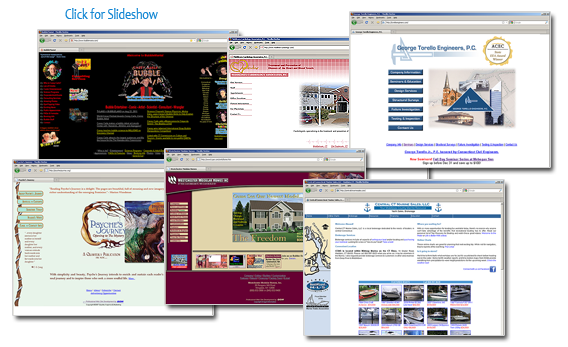 The Development Process
Pre-Planning
Perhaps the most important and most overlooked phase, Pre-planning lays the foundation for your web site now and into the future. QGM will assist you in organizing your on line presence into web site areas and a navigation system that appeals to and makes sense to your target audience.
Shield Page
Prior to development of your site, we will post a "shield page" at your site "address" containing your company name, address, phone, etc. so that anyone visiting your site will be presented with at least basic information.
Development
Based on the pre-planning phase we will then proceed to:
CONTENT IDENTIFICATION - appropriate site content will be identified, and areas/pages scheduled to include this information.
SITE ARCHITECTURE - the actual physical layout of the site's directories and components.
SITE NAVIGATION - the menu system(s) that users will use to navigate throughout your site.
Look & Feel
Based on your existing marketing materials, company identification and desires for your web site, we will develop one or more initial pages and provide you with a unique URL in order for you to review this progress. We will then work to arrive at the site design that works for you and reflects the image you desire. It is important to us that you remain involved throughout the development process.
Site Construction
SKELETON CONSTRUCTION - Once the "look & feel" has been established, we will then begin to create all of the pages that comprise your site. We will also be incorporating counters, response forms, etc., as desired. SKELETON TESTING - Once the skeleton is complete, we thoroughly test the site for navigation, cognitive or technical problems.
Content
During this phase we will complete the inclusion of materials or content that was not included in earlier pages, and also ask you for a page by page review by you in order to correct information, wording, etc.
Opening Day!
SITE ACTIVATION! - Once the site has been reviewed and all content and changes completed, the "shield page" is removed so that visitors will now arrive at the actual site. Welcome to the web!
Search Engines and Directories
Once your site is "live" we will then submit your site information to approximately 30 of the top Internet search engines and directories, as well as provide advice on incorporating your web site into your overall marketing plan.